By Walt -
@walterfootball
April 29, 2016
2016 NFL Draft Day 2 Preview - Ten Observations:
1. I can't remember a crazier NFL Draft. I guess we should've seen it coming after the insane trades that occurred prior to the draft, but some of what happened during the first round was downright ridiculous. Think about it: Of the top four prospects in terms of pure talent level, one was chosen at No. 5 (Jalen Ramsey); another was picked 13th overall (Laremy Tunsil); and two others fell out of the first round completely (Myles Jack and Jaylon Smith). Everyone saw Smith's slide coming, but the Tunsil and Jack free fall were not projected by anyone. Tunsil was expected to be picked sixth at the very latest, while multiple NFL insiders, including Adam Schefter, said that Jack's range was in the teens. If you were to tell anyone prior to the 2016 NFL Draft that all of this would happen, forget being sent to the mental ward; you would've been killed right on the spot for severe lunacy.
On the other end of the spectrum, an inferior prospect was picked third overall, while a running back was chosen with the next pick, despite the fact that running backs have been completely marginalized in this current NFL era. And then there were the 49ers, who moved up to select a third-round prospect at the end of... wait, considering how incompetent San Francisco has been, that was downright predictable.
2. Let's begin with the real first pick of the draft, which was San Diego's selection. It was hilarious that absolutely no one had the pick. The Adam Schefters, the Mike Mayocks and the Jay Glazers never even got a sniff of it. There was speculation that Ronnie Stanley would be the choice, but that manifested from the realization that general manager Tom Telesco's mentor, Bill Polian, ranked Stanley ahead of Laremy Tunsil. Most mocked Tunsil to the Chargers, so they simply switched over to Stanley.
The Joey Bosa pick itself was mystifying. Teams we spoke to were somewhat down on Bosa entering the draft process, citing that he belonged in the 6-8 range. There was also major debate about whether Bosa belonged in a 3-4 scheme. Bosa is a natural 4-3 defensive end, but his transition to a 3-4 is sketchy. Of course, these things can be unpredictable. When the Colts drafted Bjoern Werner in the opening round of the 2013 NFL Draft, I never thought for a second that the selection would work out because Werner was a 4-3 player. Werner flopped. However, I was also unsure of how Tamba Hali would fare when the Chiefs switched to a 3-4, and he absolutely thrived.
The point is that while Bosa could fare well in the 3-4, the Chargers don't really know how he'll do in the scheme. Thus, taking Ramsey or DeForest Buckner probably would've been the wiser move.
Oh, and speaking of the Chargers, what was up with them high-fiving each other once they drafted Bosa? They had their pick of the litter in terms of non-quarterbacks. They were in complete control of whom they were taking. So, why the jubilation? Did they think some team was going to trade ahead of them to pick No. 2 1/2?
3. Dallas' pick was even worse, and on so many levels. Most obviously, selecting a running back who isn't seen as the next Emmitt Smith/Barry Sanders in the top five of the current NFL era is absolutely insane. It just can't be done. Running backs grow on trees, and next year's crop of backs will be even better. In fact, when including Todd Gurley (injury aside) and Leonard Fournette, Ezekiel Elliott is the worst prospect of the three. And yet, the Cowboys took him with the fourth pick!? With Ramsey on the board!? Why!?
The Cowboys' decision seems even worse now in the wake of the news that the Ravens were trying desperately to move up to No. 4 for Ramsey. There was no way the Jaguars were taking Elliott, so Dallas could've obtained Elliott at No. 6 AND secured extra picks. This is just horrible drafting on the Cowboys' part, and it's evidence that no front office should ever listen to a mentally regressing owner who was once desperate for Johnny Manziel.
Oh, and Dallas' defense of not taking Ramsey was one of the funniest things I've ever heard. The Cowboys said that their reason for choosing Elliott over Ramsey was that they could give Elliott the ball 25 times per game, while defenses could take Ramsey out of the contest by not throwing his way, thus making Elliott more impactful.
LOL WUT!?!?!?
So, according to the Cowboys' logic, a cornerback isn't worth taking over a running back because teams won't throw toward his side of the field? Does that mean they don't think Darrelle Revis (in his prime) was more valuable than some running back? I'm not saying Ramsey will be Revis, but they are - since they said no one would throw toward Ramsey. Revis is so valuable to a defense because he can erase one half of the field, and according to Dallas, Ramsey would do the exact same thing - and yet they didn't take him!
I gave the Cowboys a "D" in my
NFL Draft Grades
, but I'm thinking that I may have been too generous. This reeks of stinky Millen kielbasa.
4. I mentioned that the Ravens tried to move up for Ramsey. That made sense, as they removed Tunsil off their board in the wake of his infamous Twitter bong picture. Ozzie Newsome said afterward that the Ravens had Stanley ranked ahead of Tunsil the entire time, but don't believe that for one second. Of course, Newsome was going to talk up his new player. What was he going to say, "Derp, we don't know how legit the Twitter pic is, so we grabbed someone inferior, derp dee doo."
Look, I'm not saying Newsome made the wrong decision; he was just lying about it - but in a good way! It's like telling your kids that Santa exists. Much like comforting them by keeping them in a fantasy land before they have to face the realization that they'll have to be some grunt working 40 hours per week, Newsome has allowed Baltimore fans to live in a magical Christmas land where they acquired one of the top players in the entire class.
5. Speaking of Tunsil ... wow. I never would've imagined that something posted on social media on the night of the draft would ever impact where a player would be selected.
A few thoughts on this:
- First of all, what the hell was Tunsil thinking? Taking a hit from a bong when constantly being tested for drugs is one thing. Filming a video of it is another! Why did Tunsil believe this was a good idea? Here's a tip for anyone considering a similar course of action: DON'T F***ING DO IT! There's no reason there should be a video of you ever doing anything illegal. Imagine if Ray Lewis filmed himself murdering someone at the Super Bowl. I don't think he would've lasted very long in the league if that video leaked out! Then again, I'm sure Roger Goodell would've considered that crime to still be inferior to what Josh Gordon did.
- Second, some of Tunsil's comments during the press conference were downright hilarious. "Things crazy right now" is one of my favorites, but the best one was when the woman came on stage and interrupted the press conference by dragging Tunsil off the stage. As this was happening, a reporter tried to ask a question. Tunsil looked at him and muttered, "Hey, that guy's from Ole Miss ... He's from Ole Miss!"
It's like Tunsil never imagined in a hundred years that a reporter from Ole Miss could fly up to Chicago and interview him.
- Third, how was Tunsil's account hacked? How easy was his password to crack? Here are my guesses for what it was:
1234
bong
football
hes from ole miss
dog
Larmey, either stay off Twitter from now on, or please pick a more complicated password.
- And finally, the whole thing is completely absurd. Tunsil was caught taking a hit from a bong. Oh, the horror! The only reason teams were concerned is that Goodell runs the NFL like a Saudi Arabaian dictator and has declared that anyone caught drinking or doing soft drugs - despite marijuana being legal in several states - shall be banished from the league. Goodell has effectively stated that smoking weed is worse than hitting a woman, as evidenced by his decisions to exile Josh Gordon and allow Greg Hardy to play. Someone needs to step in and take over before the league's blood-thirsty automaton banishes more people.
6. Speaking of players who fell because of something out of their control, Jack's drop out of the first round was completely unexpected. Now, there are reports that his knee is worse than Smith's which I don't necessarily believe. There were two teams in the top 15 willing to take Jack, but had talented players fall to them. I'll be surprised if Jack falls to the second half of Round 2, though I won't completely dismiss that possibility because those NFL franchises may have learned something over the past 48 hours. I'll try to see what I can find out.
7. I think it's interesting how each team had their favorite receiver. The Browns obviously preferred Corey Coleman, while the Texans believed Will Fuller was the best. Actually, Houston's trade was very telling. The Texans surrendered a sixth-round 2017 selection to move up from No. 22 to 21, just so they could select Fuller. Had the Redskins (or someone else via trade) chosen Fuller, Houston still could've obtained Josh Doctson or Laquon Treadwell. Thus, it's proof of how much they loved Fuller. Meanwhile, the Vikings were searching for a tall wideout, so they preferred either Doctson or Treadwell over Coleman and Fuller.
And speaking of Doctson, Coleman and Fuller, those were the top players on Cincinnati's realistic board. The poor Bengals missed out on all of them, and there's speculation that they drafted William Jackson just to stick it to the Steelers. They knew Pittsburgh liked Jackson, so the Bengals wanted to screw over their arch rivals. Pretty hilarious.
8. The worst pick in the first round, which earned a Millen in my
NFL Draft Grades
, was San Francisco's pick of Joshua Garnett. I mocked Garnett to the 49ers - in the third round! Taking Garnett at No. 28 is insane on its own; trading up for him sealed the Millen deal.
I wanted to mention the Garnett selection because I didn't like what NFL Network did in terms of its coverage. They had Stanford head coach David Shaw on as a guest analyst next to Mike Mayock, which I thought was a huge mistake. Shaw offered good analysis throughout the evening, but the problem was that with him on the set, no one was willing to criticize San Francisco's pick. Mel Kiper and Jon Gruden did so on ESPN, but all Mayock could do to avoid an awkward moment was say, "Take it away, Coach, talk about Joshua."
And yes, I watched both ESPN and NFL Network. How? Well, I tuned into ESPN live, and then flipped over to NFL Network, which re-aired the draft at 1 a.m., so I had that on while I was writing up my
2016 NFL Mock Re-Draft
.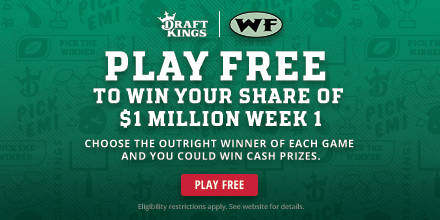 9. How will the top of the second round shake out? Well, there could be a couple of trades. Ian Rapoport has reported that the Cowboys are trying to move up to No. 32 in order to take a pass-rusher. I know they like Kevin Dodd, so perhaps he's the target. Noah Spence would make sense as well.
Meanwhile, Charlie Campbell has tweeted that the Titans are taking calls to move down from No. 33. Could a team be moving up for Jack? It's certainly possible, as the teams in the 30s never would've imagined that they'd have a shot at the UCLA linebacker in the second round.
10. For a fantasy football perspective, there were eight players chosen in the first round. Here they are, ordered by dynasty value:
1. Ezekiel Elliott, RB
2. William Fuller, WR
3. Laquon Treadwell, WR
4. Josh Doctson, WR
5. Corey Coleman, WR
6. Carson Wentz, QB
7. Jared Goff, QB
8. Paxton Lynch, QB
My top-25 available players for the second round (with links to their scouting reports):
Myles Jack, LB, UCLA
Jarran Reed, DT, Alabama
Reggie Ragland, LB, Alabama
Kevin Dodd, DE, Clemson
Vonn Bell, S, Ohio State


Xavien Howard, CB, Baylor
Kendall Fuller, CB, VIrginia Tech
Chris Jones, DT, Mississippi State
Noah Spence, DE/OLB, Eastern Kentucky
Mackensie Alexander, CB, Clemson


Jonathan Bullard, DT, Florida
Cody Whitehair, G/C, Kansas State
Emmanuel Ogbah, DE, Oklahoma State
A'Shawn Robinson, DT, Alabama
Andrew Billings, DT, Baylor


Derrick Henry, RB, Alabama
Kamalei Correa, DE/OLB, Boise State
Tyler Boyd, WR, Pittsburgh
Jason Spriggs, OT, Indiana
Sterling Shepard, WR, Oklahoma


Sheldon Day, DT, Notre Dame
Hunter Henry, TE, Arkansas
Christian Westerman, G, Arizona State
Jihad Ward, DT, Illinois
Su'a Cravens, S, USC
You can see where I have these prospects in my
2016 NFL Mock Re-Draft
. I'll be updating that with some changes in a couple of hours.
National Media - Winners and Losers:
I have thoughts about members of the ESPN and NFL Network broadcast from last night, and which ones were the "winners" and "losers."
Winners:
1. Louis Riddick, ESPN -
A year ago, the "Worldwide Leader" initially planned to have Ray Lewis sitting next to Chris Berman's right. Lewis, however, was in Baltimore, where he was teaching rioters how to get away with murder. I mean, trying to create peace. Riddick was great in his place, and that was once again the case this year. He was the best analyst ESPN had on its set.
2. Kaylee Hartung, ESPN -
No analysis needed.
3. Todd McShay, ESPN -
I've been hard on the Sun Tan Man over the years, but Todd McShay offered some great analysis leading up to the draft. He also absolutely nailed the Cowboys pick, correctly citing that they made an 11th-hour change, switching to Elliott from Ramsey. In turn, he correctly projected Ramsey to Jacksonville. Bravo, Sun Tan Man. Georgio from the salon really pulled through.
Losers:
1. Chris Berman, ESPN -
I've loved Berman over the years, and he and Tom Jackson are a major reason why I got heavily interested in football in the first place. For anyone 20 years or younger reading this, the two used to have this great show called
NFL Primetime
, which aired weekly during the season prior to the Sunday night game (back then on ESPN), and it was absolutely awesome. They gave us detailed highlights, accompanied by some killer music. I really miss it.
Berman, unfortunately, is a shell of his former self now. He said that no school has had three prospects in the top 10 prior to the 2016 NFL Draft despite that it's happened 12 times. Berman spent some time telling St. Louis fans that they could still cheer for the Rams (they say "thanks," I guess?) and his "Eli 'Big Apple'" joke was just sad. Throw in his interview in Roger Goodell, which featured absolutely no hard questions, and the fact that he constantly tipped picks, and Berman's performance was horrible to listen to.
2. NFL Network Gold Carpet -
What I wrote last year still applies. What the hell was this all about? Who does the NFL Network think is watching the draft, 60-year-old women? No football fan cares about what sort of clothes and shoes prospects were wearing. If the NFL Draft happened to be a mass spectacle like the Super Bowl, I could understand it, but there's no one watching it and thinking,
OMG CAN YOU BELIEVE HE WAS WEARING THOSE SHOES WITH THAT JACKET OMG OMG OMG OMG OMG!!!
3. NFL Network's Decision to Use David Shaw -
As mentioned, I liked Shaw's analysis, but his presence prevented the other people from criticizing the Joshua Garnett pick, which ESPN correctly did. Mayock barely even said anything about Garnett beyond, "He's tough."
2016 NFL Draft Mailbag:
Here are various 2016 NFL Draft-related questions I received on Facebook and my responses to them:
From Sam B.

Is Myles Jack's injury that severe, or are teams overreacting by not getting him in the first round?
--> As of Tuesday, I know that two teams in the top 15 were strongly considering him, but had talented prospects fall to them. We'll know for sure how bad it is if he drops to the latter end of the second round. There have been reports that his knee is worse than Jaylon Smith's, which I find surprising. Teams did give him the green light earlier in the week. It's possible that they could've obtained some new information. If I hear anything, I'll report it.
From Dan D.

Knowing everything we know with Laremy Tunsil's social media debacle, his lawsuits with his stepfather, and his NCAA issues, did teams still overreact? If you were the GM, where would you have considered Tunsil given these off the field problems?
--> Teams did overreact, and I would have taken him in the 6-10 range. Here's the thing: Tunsil dropped because he's now an apparent risk. Well, all draft picks are risks. First-rounders bust nearly a third of the time, according to DataScopeAnalytics.com. The players these teams chose over Tunsil may not work out. So, why not take the top talent available?
Also, Tunsil didn't fail a single drug test in the lead-up to the draft. This was an old video, posted by someone who was out for money but didn't get it. There was no legitimate reason why Tunsil should've slipped out of the top 10.
From Luke T.

Grade for Ezekiel Elliott's questionable attire choices?
--> A Millen. For obvious reasons. I'd get into what Matt Millen was probably doing to his own backside with kielbasas upon seeing Elliott's attire, but I don't want you guys to vomit.
From Luke T.

Why did A'Shawn Robinson and Jarran Reed fall so far?
--> Reed's fall was a surprise. He was under consideration at No. 19, but the Bills had Shaq Lawson fall into their laps. Robinson's was more predictable. I had him in the second round of my mock because he interviewed very poorly. I hope that one day I can share some of his responses to questions, because they were hilariously awful. Also, Robinson has a lack of passion for the game, which is a problem.
From Nathan T.

There are almost always draft-day player trades. We've heard all about the quarterbacks. What other current players do you see as likely draft-day trades, and what is their value?
--> No name has been reported by the media, but I'd look at players whose job will be taken by someone who was drafted. Eugene Monroe is one example. Darren McFadden is another. I'd also include Branden Albert, Johnthan Banks, Pierre Garcon and Charles Johnson. However, my No. 1 name would be Willie Young. He already has asked the Bears for a trade. I could see him being dealt for a fourth-rounder, which is about the range for the other players.
From Matt W.

Who do you think the Raiders should target on Day 2? (I'd personally like Jack or even Ragland in rd 2 but I think that's just a dream)
--> I mocked Jihad Ward there in my
2016 NFL Mock Re-Draft
. I considered some other names as well. Chris Jones and Jonathan Bullard, for example. Jack and Ragland would be great fits as well.
From Abishek P.

Will Jerry Reese be drug tested?
--> The Eli Apple pick was a bit strange, but kind of understandable. Both of the Giants' targets (Jack Conklin, Leonard Floyd) were off the board, so they panicked a bit. So, to answer your question, no - unless someone tweets a picture of him taking a hit from a bong.
From Matt K.

1) Why do you think the Cowboys are trying to move up two spots for the Browns pick? and 2) Do you think the Steelers are the losers of round 1?
--> The Cowboys apparently want an edge rusher. I know they like Kevin Dodd. They could also have major interest in Noah Spence, whom they probably didn't think would be available. And yes, the Steelers are certainly one of the losers. Reaching on a project like Artie Burns wasn't a mistake, but as I wrote in my
NFL Draft Grades
page, they definitely didn't have the worst pick.
Comment...
NFL Picks
- Sept. 22
2019 NFL Mock Draft
- Sept. 20
Fantasy Football Rankings
- Sept. 5
2019 NBA Mock Draft
- Aug. 13
2020 NFL Mock Draft
- Aug. 1
NFL Power Rankings
- June 3