My Thoughts During the 2018 NFL Kickoff Live Blog - Live Updates
What is this?
I'll be posting my thoughts during the Eagles-Falcons game here. That will include everything from the actual game, to the TV personalities, to the commercials, etc. Anything goes. This page will be updated every five minutes or so Thursday evening, so I hope you join me for the first real NFL game in seven months. Football's back.
Feel free to post your thoughts in the
comments below
.
7:50:
We're live, and the game is about to kick off! Maybe. There's lightning around the stadium, and the 2018 NFL season could be delayed.
7:51:
I'm at my parents' house tonight to watch the game with my dad. I think I'm more excited about my dad's reaction to the Colin Kaepernick Nike commercial than I am for the season starting.
7:52:
I have a Dr. Pepper soda bottle by my side to keep me energized (I don't drink coffee.) My dad looked at it and said, "I heard Dr. Pepper isn't good for you." Damn it, I thought I was drinking something healthy here!
7:54:
Argh, the stadium is being cleared because of the lightning. That's stupid. Isn't lightning just part of the game? Both teams are negatively impacted by it, so don't tell me it's not fair.
7:55:
Eagles owner Jeff Lurie spent so much money on this stadium. Why couldn't he put some lightning rods on the roof?
7:56:
"Who is he!?" my dad asked when seeing this singer. I don't know either. Shawn Menendez? Is he one of the Menendez brothers?
7:57:
My dad just remarked, "This kid singer sounds like he's taking a piss." Yup, that sums it up perfectly.
7:58:
Is this really what music is like nowadays? This is awful. I know I probably sound like an old a**hole, and I am an old a**hole, but this is putrid. Like, I think you could find an average person on the street and he could sing better than this.
8:01:
Thank God the music is over. My ears are bleeding from that whining. That Shawn Menendez character really did sound like he was taking a piss.
8:03:
"They can't play if there's a storm!? They play in snow!" - my dad. He gets it.
8:06:
My mom just asked if I want three or four cheeseburgers. What kind of a silly question is that? The answer is clearly five.
8:08:
By the way, my final thoughts on this game are on the
NFL Picks
page.
8:11:
No surprise there's a thunderstorm, by the way. The weather in Philly this summer has been horrible. I'm not exaggerating here: It must have rained three out of every four days this summer at the very least. This is the worst summer for weather I can ever remember.
8:13:
Kickoff is apparently scheduled for 8:55 p.m., but we'll see. I'll be here continuing to say stupid stuff.
8:15:
I don't get why Pizza Hut and big pizza chains like it even exist. I'd much rather order from a local pizza joint. They need the business more, and their product is usually superior. There used to be this place by my parents' house called Station Pizza, which was awesome. They had $5 large pizzas, which were delicious. Unfortunately, they are under new ownership (I think), and their product now sucks. Anyway, to make a long story more boring, I now order from different local pizza places.
8:17:
"One more look at the radar, which looks like nonsense to 99.9 percent of viewers."
8:18:
Holy hell, I forgot about the Ravens' conflict with the Orioles. What sort of fool prioritizes boring baseball over football?
8:20:
Cris Collinsworth talking about the Falcons' red-zone woes. It's a good thing Atlanta fired the man responsible for that, Steve Sarki... wait, never mind.
8:23:
Rodney Harrison just said Carson Wentz didn't look great on the field prior to kickoff. I had the Eagles going 12-4, but that was assuming Wentz would play most of the year, but I'm wondering now if it would be better to just keep him out for all, or at least most of 2018. The Eagles will have a better chance in 2019, as they have three picks in the 2019 NFL Draft.
8:26:
The rain has ended. Hopefully the game starts soon before NBC gives us another horrible Shawn Menendez song.
8:27:
Mike Tirico gives the @Falcons person props for using the proper emoji. What sort of self-respecting adult uses emojis beyond the regular smiley or sad face? The :P is fine, too. That's it. That's the list.
8:29:
Oh wow, NBC is airing a doctor TV show. No other network has tried this before. I'm excited for this new genre of TV show.
8:31:
My dad is still pissed. "Why can't they play in a thunderstorm!? I used to play in thunderstorms! No problem!"
8:32:
I love how they show this weather radar graphic as if they expect anyone to understand it. What do all the colors mean? What timeframe is it? Is the beginning shot current, or the past? How bad is red supposed to be? Is there anything worse than red?
8:35:
My friend Drew - the Jerk of the Week from Dec. 7, 2017 - just told me I locked in the Eagles at -2.5. Fake news! I have them at -1 -105, which I think is a great number.
8:37:
This delay should help the Eagles, right? The crowd will be drunker from the delay, so at least the fans will be louder.
8:38:
Wow, are people in Tampa really optimistic. Buc fans, please calm down. Your team sucks. Your coach sucks, your quarterback is suspended, your offensive line can't block, and your secondary can't cover.
8:41:
I almost forgot, two of the three Eagles analysts on the local pre-game show picked the Falcons, with one even having Atlanta winning 30-14! It's amazing how much one preseason game has f***ed with everyone's head.
8:43:
Couldn't agree more with Rodney Harrison. Not playing the starters in the preseason is silly. As one e-mailer perfectly said, "The Falcons spent more time showcasing guys they were going to cut in the preseason than getting their starters ready for contact."
8:45:
My mom made a great point: Who is giving these cars all of these awards that they always mention on TV? Is there some kind of organization like the Oscars that has an award show for cars? Seriously, has anyone thought to ask this before?
8:47:
Love the tepid applause for Jeff Lurie. My dad's not a fan.
8:51:
"Let's say for a second, Julio Jones makes that catch." Then, the official throws a flag for an illegal touch because Jones stepped out of bounds.
8:54:
Oh cool, a superhero movie!!! Wow wow wow!!! I haven't seen Hollywood come out with a superhero movie in decades! This is so exciting!
8:58:
My wife just texted me and said our dog had diarrhea for 20 minutes outside. Just thought I'd share that with you.
8:59:
"Race day?" Are cars driving in circles still a thing?
9:01:
Aren't Boyz II Men technically Men II Grandparentz by now?
9:04:
Why do fans cheer the coin toss win? Does it even matter, really?
9:05:
Football has begun!
9:08:
Bad missed tackle by Rodney McLeod on Julio Jones on the end-around. First down, Atlanta.
9:09:
Wow, Atlanta is already at the Eagles' 39.
9:10:
Calvin Ridley drops his first target. Now, Devonta Freeman with a drop, and it's third down.
9:11:
Ryan to Jones, down to the 5-yard line!
9:12:
Falcons can't convert in the red zone! Big stop on the fourth down!
9:14:
What the hell were the Falcons thinking there? I'm fine with going for it, but how can you not have Julio Jones on the field during what might be the biggest play of the game? Classic Sark garbage play-calling.
9:15:
I think the rapper in the Snickers commercial was better off as Elton John, but then again, I've never heard of Shawn Menendez.
9:18:
"F**ing idiot, Foles!" - my dad. The magic is gone.
9:20:
I don't understand why running out of bounds constitutes a 15-yard penalty. That's one of the most confusing rules in the NFL, and the NFL has a s**t ton of confusing rules.
9:23:
Whatever happened with the story about Michael Bennett shoving an old lady in a wheelchair? That story broke in March or April, yet nothing ever came of it. It feels like a dream, almost.
9:25:
Oh man, 26-yard screen to Tevin Coleman. The Falcons are inside the 10 again.
9:26:
I don't think that's a catch, but I can't pretend to know what a catch is.
9:28:
The BMW championship!!! Oh wow, can't wait for golf!!!
9:29:
Does this official know how to officiate? How was that a catch? And even if that's a catch, where's the explanation?
9:30:
Oh OK, so it's a catch if the ball hits the ground. Got it.
9:31:
Eagles hold again, despite the obvious PI flag not getting thrown. The Falcons are trying a field goal this time.
Falcons 3, Eagles 0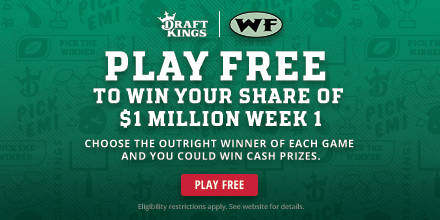 9:32:
Is it weird if I wonder if the Salmon Sisters smell like fish?
9:33:
I hope
This is Us
is better this year. Season 1 was great, but Season 2 was pretty mediocre. I'm hoping for no more stupid alcoholism plot lines and less PC nonsense.
9:34:
Don't ask me why that wasn't pass interference. I have no clue. Just like I have no clue why Austin Hooper caught the ball despite it hitting the ground.
9:36:
Where is Jay Ajayi? I drafted him in two leagues, and I'm becoming concerned.
9:38:
"Why isn't Nick Foles throwing the ball!? Why isn't he throwing the ball!? Throw the f***ing ball!" - my dad. Panic setting in.
9:40:
Quick history lesson: The Falcons, in 2002, were dismantled by the Buccaneers when Warren Sapp pointed out that Atlanta's quarterback was constantly bobbing his head. This completely ruined things for the Falcons, who never stood a chance.
9:41:
My dad is calling for Nate Sudfeld. "This guy sucks! He had three good games last year!"
9:45:
That's the end of the first quarter. The Eagles are fortunate not to be down two touchdowns. And by "fortunate," I mean the Falcons would be up 14-0 if they upgraded coordinators this offseason.
9:47:
"I'm going to call Nick Foles 'Nick Shmoles.'" - my dad. Is Shmoles an insult? I really have no idea.
9:48:
Jay Ajayi is alive!
9:49:
Nelson Agholor with his fifth catch. He's on pace to catch 200 balls this season.
9:51:
DeAndre Carter with the reception. He had a great preseason. He was a practice squad player and made the team by playing so well.
9:52:
I'm no football coach, but the Eagles are running the ball with Sproles far too often. He's a great receiver out of the backfield, but these runs aren't doing anything.
9:54:
Keanu Neal is down. That's a big injury.
9:55:
Can anyone explain that Crown Royale water break commercial? My dad and I gave each other puzzled looks after it was over.
9:57:
That holding penalty is more confusing than the Crown Royale commercial.
9:59:
Eagles set up for a field goal. Both teams screwed by a poor call/non-call in the red zone.
Falcons 3, Eagles 3
10:06:
Let's just put quarterbacks in bras and tin-foil hats if that's going to be a penalty. Holy hell.
10:07:
Matt Ryan's knee cap slid up to his quad, ahhhhh!!! Oh wait, that's just a brace.
10:11:
Ryan sacked on third down! Matt Bryant in to try another field goal.
Falcons 6, Eagles 3
10:12:
What is this reggae-thon this little girl keeps crying about in the commercial with the
Silicon Valley
a**hole. I've never heard of reggae-thon. Is this the sort of music Shawn Menendez makes?
10:13:
Just take the ball at the 25-yard line, stupid special-teamers. Just take the ball at the 25-yard line.
10:15:
This is very sloppy football. I can't tell if both defenses are just this good, or if both of these teams are just above-average at best.
10:18:
Why is
The Voice
a thing? Seriously, why does anyone care if someone sings well? It's stupid.
10:19:
Another horse-s**t roughing-the-passer penalty. Quick, get the bras and tin-foil hats!
10:21:
A bad drop by Sproles and a high throw to Zach Ertz, and the Eagles miss out a chance to score before halftime.
10:23:
What a useless car-racing advertisement. Is anyone watching a football game and thinking, "Rather than more football, I'm going to watch cars drive in circles?"
10:24:
Matt Ryan's interception is dropped! Wow, Rodney McLeod.
10:27:
Nice 4.07 YPA, Nick Shmoles!
10:28:
That's 15 accepted penalties in the first half. This is awful, sloppy football.
10:29:
Oh cool, you can hook a receiver's arm now and get away with it!
10:31:
Can the Eagles even get a seventh-round pick for Nick Foles?
10:32:
My dad wants the Eagles to go for it on fourth-and-1 from their own 21-yard line with 11 seconds left. Now that would take some balls!
10:33:
The crowd is booing the Super Bowl champions in a three-point game? No wonder Philly gets a bad rep.
10:38:
"I didn't understand the Falcons' game plan, offensively." - Rodney Harrison. That's kind of what happens when you have the worst offensive coordinator in the NFL and don't fire him.
10:40:
Before we make excuses for the offenses since this is the opening week of the season, let's not forget that the Patriots and Chiefs combined for about 70 points in last year's opener.
10:43:
I think my dad's about to fall asleep. He's not going to be awake during the Kaepernick commercial! Nooooo!
10:47:
Julio Jones has more receiving yards than Nick Shmoles has passing yards!
10:51:
Wow, now the Falcons dropped an interception. Both quarterbacks are lucky.
10:52:
"Can the Eagles put in Seinfeld, Sunfeld, whatever that guy's name is, in the game?" - my dad.
10:54:
Wow, my dad didn't say a single word. He just stared blankly at the TV. This is shocking.
10:55:
Oh, my dad's asleep. That explains it.
10:59:
A 52-yard catch definitely needs to be challenged. That was close. I was surprised they ruled it incomplete at first glance.
11:00:
The taller of the Salmon Sisters is hot. Except, it pisses me off that they pronounce it "SAH-mon." It's "SAL-mon." There's a f***ing "L" in the word.
11:01:
You know what would make me watch cars driving in circles? If each driver were given special item boxes containing things they could use to cause other drivers to either crash, get electrocuted or shrink.
11:05:
Jay Ajayi tripped up at the last second, or he would've broken it! The Eagles are now over mid-field.
11:07:
Man, this would be a completely different game if Carson Wentz were playing. The Eagles would be up double digits right now.
11:09:
Philly Philly!
11:10:
Jeez, the Falcons are going down like flies.
11:12:
Eagles inside the 10 on a pass to Ertz!
11:14:
Wow, my dad hates Deion Jones. He just went on a minute-long tirade with lots of curse words about him for some reason. I didn't even know he was aware of who Deion Jones was.
11:15:
Touchdown, Eagles! Jay Ajayi runs into the end zone.
Eagles 10, Giants 6
11:20:
Explain Like I'm 5: Why does Tevin Coleman have two more carries than Devonta Freeman at this point in this game?
11:23:
That was a big defensive stand considering that the Falcons' drive started at the 40.
11:25:
Zach Ertz with two drops on back-to-back plays. Crazy.
11:28:
One-on-one downfield shots to Julio Jones has been a secret play for the Falcons? Weh?
11:29:
"Oh s**t, I farted." - my dad.
11:30:
Wow, stupidity at its finest. If the returner tells you to get out of the way, don't start hitting people next to you! The Falcons have the ball in Philadelphia territory.
11:31:
Mohamed Sanu dropped that. No dumb rule change can convince me otherwise.
11:34:
I was never a fan of Queen Latifah. I feel like calling yourself "queen" is arrogant. Why not settle on Dutchess Latifa? I think that would be much more humble. Personally, I like Court Jester Cherepinsky.
11:36:
Ugh, come on. Lots of horse-s**t variance plays helping out the Falcons right now.
11:37:
Interception! That's the good news. The bad news is that the Eagles are trapped inside the 5-yard line again.
11:42:
Running the ball with Nelson Agholor on third-and-inches!? Sure, why not!?
11:43:
Argh, Dallas Goedert causes an interception because he bobbled the ball. More bad variance favoring the Falcons.
11:44:
And just like that, Tevin Coleman runs into the end zone. Touchdown, Falcons.
11:45:
Missed extra point!
Falcons 12, Eagles 10
11:48:
It wouldn't be a season opener if we didn't have a commercial-kickoff-commercial sequence.
11:51:
Ertz is having an awful game. Two drops and an offensive pass interference to negate a first down in the middle of the final quarter.
11:53:
Drop No. 3 for Ertz. The guy who didn't drop a pass since November of last year.
11:55:
It can't be understated how bad the officiating has been tonight. It just keeps getting worse every year.
11:57:
When is the
Silicon Valley
douche going to stop being in the Verizon commercials? He's so damn annoying. The ads are so bad my wife stopped watching
Silicon Valley
because she can't stand the sight of the guy's face.
12:00:
Ryan fumbles! But the Falcons recover. Another variance play in Atlanta's favor. My dad even noticed. "Lucky! So damn lucky!"
12:02:
The Eagles have the ball on their own 45, and they just need a field goal to win. Here we go!
12:04:
That lemonade DirecTV commercial is the opposite of what happened to me a few years ago. Some girls were selling lemonade across the street. They asked me if I wanted some. I gave them a dollar, and they gave me a f***ing Dixie cup of lemonade. Cheapskates!
12:06:
Foles had Mike Wallace open for a touchdown and underthrew him badly.
12:07:
Sproles muscles through two Falcons to get the first down!
12:09:
"Put him in the trash!" - my dad on Takk McKinley. Not sure what that means.
12:10:
Eagles down to the 15-yard line!
12:11:
Touchdown, Eagles! Jay Ajayi runs 15 yards into the end zone. Gotta go for two.
12:13:
Two-pointer is good! I think...
Eagles 18, Falcons 12
12:14:
Matt Ryan has to go 75 yards in 2:19 with three stoppages. Gulp.
12:15:
Holy hell, the Falcons are already in Eagles territory.
12:16:
Rodney McLeod took a bad angle on that play. It could've been held to 15 yards. He's not having a good game from what I've seen.
12:17:
Ryan sacked! Third-and-long coming up!
12:18:
Ryan-to-Jones, a third-and-17 conversion!!!
12:20:
Ryan-to-Sanu, a third-down conversion!!! Aaaaagghhhh!!!
12:22:
Another third down coming up, 11 seconds left!
12:23:
Fourth down, seven seconds left!
12:24:
Illegal contact, are you f***ing kidding me!?
12:25:
That's such a weak call. Wow.
12:26:
Incomplete! Eagles win! Eagles win!
12:27:
Holy hell, that game felt like it lasted a hundred years. A great start to the year!
12:34:
Thanks for reading my nonsensical thoughts (as well as my dad's!)
I'll have a
game recap
soon.
Charlie's 2019 NFL Mock Draft
will be updated tomorrow morning. Also, make sure you enter the
Survivor Pool
(free entry, $350 prize) and the
Weekly Fantasy Football Contest
.
NFL Picks
- Nov. 13
2019 NFL Mock Draft
- Nov. 8
2020 NFL Mock Draft
- Nov. 3
Fantasy Football Rankings
- Sept. 5
2019 NBA Mock Draft
- Aug. 13
NFL Power Rankings
- June 3
2018:
Live 2018 NFL Draft Blog
- April 30
2018 NFL Week 1 Recap
- Sept. 7
2018 NFL Week 2 Recap
- Sept. 14
2018 NFL Week 3 Recap
- Sept. 21
2018 NFL Week 4 Recap
- Sept. 28
2018 NFL Week 5 Recap
- Oct. 5
2018 NFL Week 6 Recap
- Oct. 12
2018 NFL Week 7 Recap
- Oct. 19
2018 NFL Week 8 Recap
- Oct. 26
2018 NFL Week 9 Recap
- Nov. 2
2018 NFL Week 10 Recap
- Nov. 9
2017:
Live 2017 NFL Draft Blog
- April 30
2017 NFL Week 1 Recap
- Sept. 12
2017 NFL Week 2 Recap
- Sept. 19
2017 NFL Week 3 Recap
- Sept. 26
2017 NFL Week 4 Recap
- Oct. 2
2017 NFL Week 5 Recap
- Oct. 9
2017 NFL Week 6 Recap
- Oct. 16
2017 NFL Week 7 Recap
- Oct. 23
2017 NFL Week 8 Recap
- Oct. 30
2017 NFL Week 9 Recap
- Nov. 6
2017 NFL Week 10 Recap
- Nov. 13
2017 NFL Week 11 Recap
- Nov. 20
2017 NFL Week 12 Recap
- Nov. 27
2017 NFL Week 13 Recap
- Dec. 4
2017 NFL Week 14 Recap
- Dec. 11
2017 NFL Week 15 Recap
- Dec. 18
2017 NFL Week 16 Recap
- Dec. 25
2017 NFL Week 17 Recap
- Jan. 1
2017 NFL Week 18 Recap
- Jan. 8
2017 NFL Week 19 Recap
- Jan. 15
2017 NFL Week 20 Recap
- Jan. 22
Super Bowl LII Recap
- Feb. 5
2017:
Live 2017 NFL Draft Blog
- April 30
2017 NFL Week 1 Recap
- Sept. 12
2017 NFL Week 2 Recap
- Sept. 19
2017 NFL Week 3 Recap
- Sept. 26
2017 NFL Week 4 Recap
- Oct. 2
2017 NFL Week 5 Recap
- Oct. 9
2017 NFL Week 6 Recap
- Oct. 16
2017 NFL Week 7 Recap
- Oct. 23
2017 NFL Week 8 Recap
- Oct. 30
2017 NFL Week 9 Recap
- Nov. 6
2017 NFL Week 10 Recap
- Nov. 13
2017 NFL Week 11 Recap
- Nov. 20
2017 NFL Week 12 Recap
- Nov. 27
2017 NFL Week 13 Recap
- Dec. 4
2017 NFL Week 14 Recap
- Dec. 11
2017 NFL Week 15 Recap
- Dec. 18
2017 NFL Week 16 Recap
- Dec. 25
2017 NFL Week 17 Recap
- Jan. 1
2017 NFL Week 18 Recap
- Jan. 8
2017 NFL Week 19 Recap
- Jan. 15
2017 NFL Week 20 Recap
- Jan. 22
Super Bowl LII Recap
- Feb. 5
2016:
Live 2016 NFL Draft Blog
- April 30
2016 NFL Week 1 Recap
- Sept. 12
2016 NFL Week 2 Recap
- Sept. 19
2016 NFL Week 3 Recap
- Sept. 26
2016 NFL Week 4 Recap
- Oct. 3
2016 NFL Week 5 Recap
- Oct. 10
2016 NFL Week 6 Recap
- Oct. 17
2016 NFL Week 7 Recap
- Oct. 24
2016 NFL Week 8 Recap
- Oct. 31
2016 NFL Week 9 Recap
- Nov. 7
2016 NFL Week 10 Recap
- Nov. 14
2016 NFL Week 11 Recap
- Nov. 21
2016 NFL Week 12 Recap
- Nov. 28
2016 NFL Week 13 Recap
- Dec. 5
2016 NFL Week 14 Recap
- Dec. 12
2016 NFL Week 15 Recap
- Dec. 19
2016 NFL Week 16 Recap
- Dec. 26
2016 NFL Week 17 Recap
- Jan. 2
2016 NFL Week 18 Recap
- Jan. 9
2016 NFL Week 19 Recap
- Jan. 16
2016 NFL Week 20 Recap
- Jan. 23
2016 NFL Week 21 Recap
- Feb. 6
2015:
Live 2015 NFL Draft Blog
- April 30
2015 NFL Week 1 Recap
- Sept. 12
2015 NFL Week 2 Recap
- Sept. 17
2015 NFL Week 3 Recap
- Sept. 24
2015 NFL Week 4 Recap
- Oct. 1
2015 NFL Week 5 Recap
- Oct. 8
2015 NFL Week 6 Recap
- Oct. 15
2015 NFL Week 7 Recap
- Oct. 22
2015 NFL Week 8 Recap
- Oct. 29
2015 NFL Week 9 Recap
- Nov. 5
2015 NFL Week 10 Recap
- Nov. 12
2015 NFL Week 11 Recap
- Nov. 19
2015 NFL Week 12 Recap
- Nov. 26
2015 NFL Week 13 Recap
- Dec. 4
2015 NFL Week 14 Recap
- Dec. 11
2015 NFL Week 15 Recap
- Dec. 18
2015 NFL Week 16 Recap
- Dec. 25
2015 NFL Week 17 Recap
- Jan. 4
2015 NFL Week 18 Recap
- Jan. 11
2015 NFL Week 19 Recap
- Jan. 18
2015 NFL Week 20 Recap
- Jan. 25
Super Bowl 50 Recap
- Feb. 8
2014:
Live 2014 NFL Draft Blog
- May 8
2014 NFL Week 1 Recap
- Sept. 5
2014 NFL Week 2 Recap
- Sept. 12
2014 NFL Week 3 Recap
- Sept. 19
2014 NFL Week 4 Recap
- Sept. 26
2014 NFL Week 5 Recap
- Oct. 3
2014 NFL Week 6 Recap
- Oct. 10
2014 NFL Week 7 Recap
- Oct. 17
2014 NFL Week 8 Recap
- Oct. 24
2014 NFL Week 9 Recap
- Oct. 31
2014 NFL Week 10 Recap
- Nov. 6
2014 NFL Week 11 Recap
- Nov. 13
2014 NFL Week 12 Recap
- Nov. 20
2014 NFL Week 13 Recap
- Nov. 27
2014 NFL Week 14 Recap
- Dec. 5
2014 NFL Week 15 Recap
- Dec. 12
2014 NFL Week 16 Recap
- Dec. 19
2014 NFL Week 17 Recap
- Dec. 29
2014 NFL Week 18 Recap
- Jan. 4
2014 NFL Week 19 Recap
- Jan. 11
2014 NFL Week 20 Recap
- Jan. 18
Super Bowl XLIX Live Blog
- Feb. 1
Super Bowl XLIX Recap
- Feb. 2
2013:
Live 2013 NFL Draft Blog
- April 26
2013 NFL Week 1 Recap
- Sept. 10
2013 NFL Week 2 Recap
- Sept. 17
2013 NFL Week 3 Recap
- Sept. 24
2013 NFL Week 4 Recap
- Oct. 1
2013 NFL Week 5 Recap
- Oct. 8
2013 NFL Week 6 Recap
- Oct. 15
2013 NFL Week 7 Recap
- Oct. 22
2013 NFL Week 8 Recap
- Oct. 29
2013 NFL Week 9 Recap
- Nov. 4
2013 NFL Week 10 Recap
- Nov. 11
2013 NFL Week 11 Recap
- Nov. 18
2013 NFL Week 12 Recap
- Nov. 25
2013 NFL Week 13 Recap
- Dec. 2
2013 NFL Week 14 Recap
- Dec. 9
2013 NFL Week 15 Recap
- Dec. 16
2013 NFL Week 16 Recap
- Dec. 23
2013 NFL Week 17 Recap
- Dec. 30
2013 NFL Week 18 Recap
- Jan. 6
2013 NFL Week 19 Recap
- Jan. 13
2013 NFL Week 20 Recap
- Jan. 20
Super Bowl XLVIII Recap
- Feb. 3
Super Bowl XLVIII Live Blog
- Feb. 2
2012:
Live 2012 NFL Draft Blog
- April 26
2012 NFL Week 1 Recap
- Sept. 10
2012 NFL Week 2 Recap
- Sept. 17
2012 NFL Week 3 Recap
- Sept. 24
2012 NFL Week 4 Recap
- Oct. 1
2012 NFL Week 5 Recap
- Oct. 8
2012 NFL Week 6 Recap
- Oct. 15
2012 NFL Week 7 Recap
- Oct. 22
2012 NFL Week 8 Recap
- Oct. 29
2012 NFL Week 9 Recap
- Nov. 5
2012 NFL Week 10 Recap
- Nov. 12
2012 NFL Week 11 Recap
- Nov. 19
2012 NFL Week 12 Recap
- Nov. 26
2012 NFL Week 13 Recap
- Dec. 3
2012 NFL Week 14 Recap
- Dec. 10
2012 NFL Week 15 Recap
- Dec. 17
2012 NFL Week 16 Recap
- Dec. 24
2012 NFL Week 17 Recap
- Dec. 31
2012 NFL Week 18 Recap
- Jan. 7
2012 NFL Week 19 Recap
- Jan. 14
2012 NFL Week 20 Recap
- Jan. 21
Super Bowl XLVII Recap
- Feb. 4
Super Bowl XLVII Live Blog
- Feb. 4
2011:
Live 2011 NFL Draft Blog
- April 28
2011 NFL Week 1 Recap
- Sept. 12
2011 NFL Week 2 Recap
- Sept. 19
2011 NFL Week 3 Recap
- Sept. 26
2011 NFL Week 4 Recap
- Oct. 3
2011 NFL Week 5 Recap
- Oct. 10
2011 NFL Week 6 Recap
- Oct. 17
2011 NFL Week 7 Recap
- Oct. 24
2011 NFL Week 8 Recap
- Oct. 31
2011 NFL Week 9 Recap
- Nov. 7
2011 NFL Week 10 Recap
- Nov. 14
2011 NFL Week 11 Recap
- Nov. 21
2011 NFL Week 12 Recap
- Nov. 28
2011 NFL Week 13 Recap
- Dec. 5
2011 NFL Week 14 Recap
- Dec. 12
2011 NFL Week 15 Recap
- Dec. 19
2011 NFL Week 16 Recap
- Dec. 26
2011 NFL Week 17 Recap
- Jan. 2
2011 NFL Week 18 Recap
- Jan. 9
2011 NFL Week 19 Recap
- Jan. 16
2011 NFL Week 20 Recap
- Jan. 23
Super Bowl XLVI Live Blog
- Feb. 6
2010:
Live 2010 NFL Draft Blog
- April 22
2010 Hall of Fame Game Live Blog
- Aug. 8
2010 NFL Kickoff Live Blog
- Sept. 9
2010 NFL Week 1 Review
- Sept. 13
2010 NFL Week 2 Review
- Sept. 20
2010 NFL Week 3 Review
- Sept. 27
2010 NFL Week 4 Review
- Oct. 4
2010 NFL Week 5 Review
- Oct. 11
2010 NFL Week 6 Review
- Oct. 18
2010 NFL Week 7 Review
- Oct. 25
2010 NFL Week 8 Review
- Nov. 1
2010 NFL Week 9 Review
- Nov. 8
2010 NFL Week 10 Review
- Nov. 15
2010 NFL Week 11 Review
- Nov. 22
2010 NFL Week 12 Review
- Nov. 29
2010 NFL Week 13 Review
- Dec. 6
2010 NFL Week 14 Review
- Dec. 13
2010 NFL Week 15 Review
- Dec. 20
2010 NFL Week 16 Review
- Dec. 27
2010 NFL Week 17 Review
- Jan. 3
2010 NFL Week 18 Review
- Jan. 10
2010 NFL Week 19 Review
- Jan. 17
2010 NFL Week 19 Review
- Jan. 24
Super Bowl XLV Live Blog
- Feb. 6
2009:
Live 2009 NFL Draft Blog
- April 25
2009 Hall of Fame Game Live Blog
- Aug. 10
2009 NFL Kickoff Live Blog
- Sept. 10
2009 NFL Week 1 Review
- Sept. 14
2009 NFL Week 2 Review
- Sept. 21
2009 NFL Week 3 Review
- Sept. 28
2009 NFL Week 4 Review
- Oct. 5
2009 NFL Week 5 Review
- Oct. 12
2009 NFL Week 6 Review
- Oct. 19
2009 NFL Week 7 Review
- Oct. 26
2009 NFL Week 8 Review
- Nov. 2
2009 NFL Week 9 Review
- Nov. 9
2009 NFL Week 10 Review
- Nov. 16
2009 NFL Week 11 Review
- Nov. 23
2009 NFL Week 12 Review
- Nov. 30
2009 NFL Week 13 Review
- Dec. 6
2009 NFL Week 14 Review
- Dec. 13
2009 NFL Week 15 Review
- Dec. 20
2009 NFL Week 16 Review
- Dec. 27
2009 NFL Week 17 Review
- Jan. 4
2009 NFL Week 18 Review
- Jan. 11
2009 NFL Week 19 Review
- Jan. 18
2009 NFL Week 20 Review
- Jan. 25
Super Bowl XLIV Live Blog
- Feb. 7
2008:
Live 2008 NFL Draft Blog
- April 26
2008 NFL Kickoff Blog
- Sept. 4
NFL Week 1 Review
- Sept. 8
NFL Week 2 Review
- Sept. 15
NFL Week 3 Review
- Sept. 22
NFL Week 4 Review
- Sept. 29
NFL Week 5 Review
- Oct. 6
NFL Week 6 Review
- Oct. 13
NFL Week 7 Review
- Oct. 20
NFL Week 8 Review
- Oct. 27
NFL Week 9 Review
- Nov. 3
NFL Week 10 Review
- Nov. 10
NFL Week 11 Review
- Nov. 17
NFL Week 12 Review
- Nov. 24
NFL Week 13 Review
- Dec. 1
NFL Week 14 Review
- Dec. 8
NFL Week 15 Review
- Dec. 15
NFL Week 16 Review
- Dec. 22
NFL Week 17 Review
- Dec. 29
NFL Wild Card Playoffs Review
- Jan. 4
NFL Divisional Playoffs Review
- Jan. 11
NFL Championship Sunday Review
- Jan. 19
Super Bowl XLIII Live Blog