Endless Banter: 2007 Browns Draft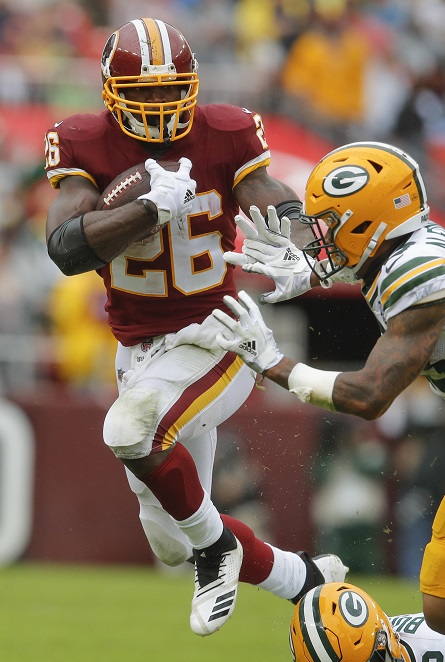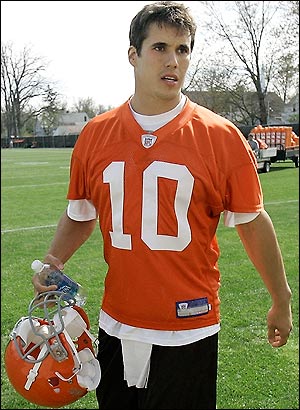 Adrian Peterson or Brady Quinn? Romeo Crennel and Phil Savage have a tough decision to make.

The Argument: Should the Browns take Adrian Peterson or Brady Quinn at No. 3?


Fred:
I may redo the entire top 7 of my mock draft. I think Cleveland is going with Adrian Peterson.
Walt:
Rather than Brady Quinn? Why?


Fred:
Because I said so.
Walt:
If Romeo Crennel and Phil Savage take Quinn and they miss the playoffs again in 2007, they can't be fired because they would have gone with a rookie quarterback. That buys them an extra year. Plus, next year's
running back class
is going to be amazing. Darren McFadden, Steve Slaton, Felix Jones, Mike Hart, Allen Patrick, Ray Rice, Jonathan Stewart and Jamaal Charles may all declare.


Fred:
Hmmm... Are any of them Adrian Peterson? I think not.
Walt:
Darren McFadden is a better pro prospect and will go No. 1 if he doesn't get hurt.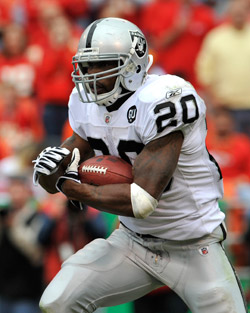 Despite splitting carries with Felix Jones, Darren McFadden ran for 1,558 yards and 15 touchdowns for Arkansas in 2006.


Fred:
I know that, so you can't count on him. The other guys won't go top 15.
Walt:
Slaton, Jones and Rice are top-15 caliber guys, but it depends on which teams need running backs. Three running backs -- Cedric Benson, Cadillac Williams and Ronnie Brown -- went top five a few years ago, so it's not unreasonable to think that four may go in the top 15.


Fred:
Those guys haven't lived up to their respective draft spots.
Walt:
That doesn't matter as far as this argument is concerned. The fact remains that they were taken early.


Fred:
True.
Walt:
I don't think Crennel and Savage will pass on Quinn. He's a hometown guy. They'll have an excuse if they flop again. It makes perfect sense.


Fred:
I think the Bears need to trade up to No. 6. Peterson or Quinn will be there.
Walt:
Bears? We're talking Browns here.


Fred:
Screw the Browns. They have no shot at winning anything this year.
Walt:
But they're drafting third, and the guy they don't take may slip to Minnesota. Why do you think Peterson's a better fit? You just said yourself that Cadillac, Brown and Benson didn't live up to their top-five billing. Will Peterson?


Fred:
I think Peterson is more of a rare talent. Cadillac and Brown were on the same team, which made them both look better than they were. And I was never high on Benson.
Walt:
Neither was I.


Fred:
I just think Cleveland is going to go a little safer and actually give Charlie Frye a chance to prove himself. If they draft Quinn, Frye is done.
Walt:
Frye is done already. Derek Anderson might win that job if the Browns don't bring in a new quarterback.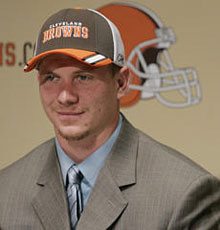 Charlie Frye threw 17 interceptions to just 10 touchdowns in 2006.
Walt:
Neither Frye nor Anderson impressed me.


Fred:
Does Quinn impress you? Because he doesn't impress me.
Walt:
Not really. Then again, he didn't have the best supporting staff at Notre Dame. What about Joe Thomas? Any chance the Browns take him?


Fred:
Not out of the question, but I don't think so. I don't know where they are with their line right now. It was badly injured last year.
Walt:
Their line was awful. They signed guards Eric Steinbach and Seth McKinney, but they still need help on the outside. I was just throwing Thomas out there. I think the Browns will take Quinn, and knowing they'll miss the postseason again, they'll be able to make a run at McFadden next year.


Fred:
They should just take Gaines Adams and say they need to generate a pass rush to contend (circa Texans).
Walt:
Yeah, I bet their fans would love that.
Go to Walt's 2007 Mock Draft
Go to Fred's 2007 Mock Draft
A freeloader by nature, Fred Cimino graduated from Penn State with a journalism degree in 2005 with a focus in sports journalism. Fred has worked as a sports analyst for the Penn State student radio station for the past two years, and is a co-host for the new Penn State football podcast "For the Glory" on mysportsradio.com, which will premiere this August.

A closet Henry Burris and Cade McNown fan, Fred spends about half of his daily life working on his fantasy teams, scouring Bodog and dominating conversations with Walterfootball. He will one day have the balls to ask Paris Hilton out, ONLY because she once dated Brian Urlacher.

Agree/disagree with something Fred said? Send him an e-mail at:

[email protected]



Endless Banter Threads:

2007 Browns Draft (April 23, 2007)
2007 Chiefs Draft (April 17, 2007)
2007 Vikings Draft (April 13, 2007)
Game Over (April 12, 2007)
2007 Lions Draft (March 30, 2007)
Takeo Spikes and Eagles Draft (March 27, 2007)
The Matt Schaub Trade (March 22, 2007)
2007 Redskins Draft (March 21, 2007)

---